Former YBNL Princess, Temmie Ovwasa has sparked controversy on social media after revealing she made out with her lesbian partner at the back of a church.
The controversial singer took to Twitter to narrate the shocking, yet interesting story of how she was intimate with her girlfriend at the back of an unknown church. According to Temmie, the shocking event took place when she was 17 years old and was invited to a church to perform.
She stated that forces were against her from achieving her aim that day, but she was more than determined to link up with her girl.
"I was 17 when I accepted an invitation to perform in a church in a town that was 6-7hrs away, just so I could see my girlfriend(asuu strike). The bus broke down in the middle of the road, that didn't faze me. we made out at the back of the church after I performed. God is Good."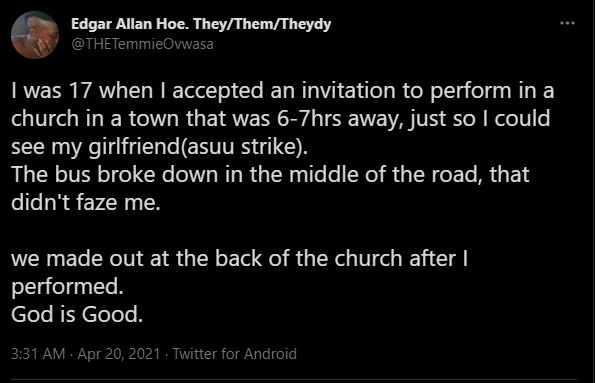 The post Temmie Ovwasa Reveals How She Made Out With Her Lesbian Partner At The Back Of A Church appeared first on tooXclusive.