Bow Wow would not stop dissing his competitor, Soulja Boy with their Versus battle in view.
The duo appears to be great friends but are very much having a great time by always taunting each other ahead of their much-anticipated versus battle.
The two rappers have agreed to compete against each other on the grand stage, but before a date is announced for their smackdown, Bow Wow and Soulja are coming after one another on social media, and the same all went down again on the micro-blogging app, Twitter earlier today.
Following Bow wow's announcement that he will be entertaining questions, Soulja Boy brought the hit by asking 'How you get so lame?'… This was when Bow Wow begin to come at him will full force, using his hairline as the bone of contention.
"I dunno I should ask you! Have you seen your hairline lately? Where this man hairline go… GOT DAAAAYUMN!" said Bow Wow in response.
Moving on, Bow Wow went on to post the 2nd picture from a different angle, adding, Soulja got them braids women get when they getting a sow in.
There still isn't a date set for Soulja Boy and Bow Wow's Versus battle but according to both sides, they're working hard on delivering an entertaining fight for the fans.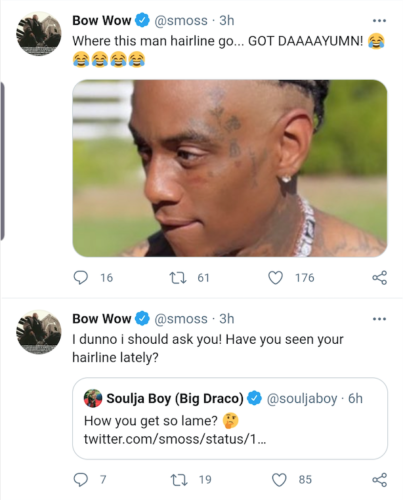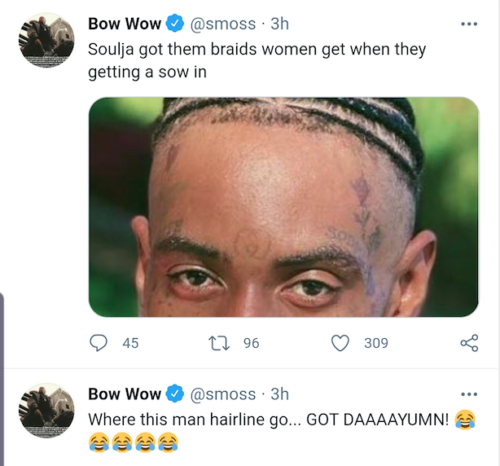 See Big Draco's post below
View this post on Instagram
The post Bow Wow Humiliates Soulja Boy's New Hair Look With These Hilarious Photos appeared first on tooXclusive.