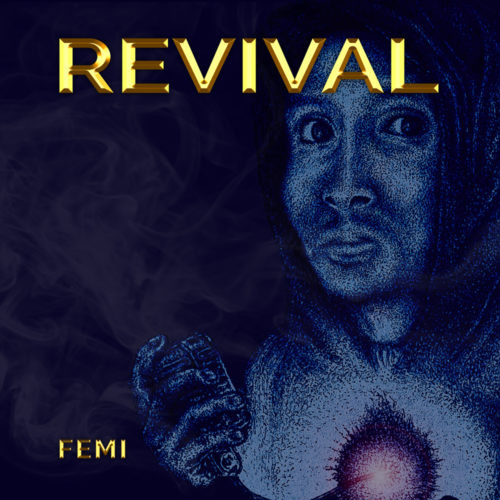 Femi paints an honest picture of present-day Nigeria with "Heist" and "Mr Nobody".
Femi has taken his part of the ongoing protests to the studio and the result is not just a thought-provoking 5-track project; it is a timestamped piece of honest art that will remind Nigerians of the current trials they are faced with due to bad governance.
The Revival EP is a melting pot of conscious genres such as hip-hop, spoken word and Afro-soul, infused with satirical lyrics and upheld by themes of hope, tenacity, accountability and change. On the fore-running tracks – Heist and Mr Nobody– Femi particularly comments on recent crises like the toll gate massacre, the Covid 19 Palliative fraud and the increased emigration of Nigerians seeking saner climes.
In a brilliantly ideated piece of musical art, Femi adapts the "Bella Ciao" theme song style of Spanish crime drama Money Heist to tell the age-long story of corruption in Nigeria. He highlights the unscrupulous lifestyle of politicians and their favourite gimmick of falling chronically ill before court proceedings.
"Money Heist na movie, In Nigeria it is real" he raps, describing the nation as a daily scene of organized robbery.
Despite the inexhaustible list of all the problems to deal with, Femi promises that the seeming foolishness of the Nigerian masses should not be undermined as we will see this fight to the end.
Afrobeats meets Italian folklore halfway to create the mind pricking, yet enjoyable instrumental upon which Femi's anguish sits on.
Heist is produced by Barbariq… Listen below
"I run to Canada, I run to America My Country is upside down My head is on fire" – Femi on "Mr Nobody"
On Mr Nobody, Femi labels Nigeria's ruling parties as dangerous and this comes at a crucial time where the next electoral process depends largely on the recognition of the vicious cycle that we have been stuck in.
He refers to the mental health issues that the system's inefficiency has inflicted on the youth depicted by the viral 'turning on e own' slang. Femi's message is passionate and simple. We must do all it takes to rebuild the Nigeria that we deserve.
Mr Nobody is also produced by Barbariq. Enjoy below
Heist and Mr Nobody both make great soundtracks for activism, triggering within us, the will to keep fighting for what we believe in. Both tracks are available globally for streaming and download as singles and as a part of the Revival EP.
Follow Femi across his social media platforms to join his amplification of the Nigerian voice and to stay abreast of his music and music-related activities. Instagram: @officiallyfemi01
Twitter: @officially_femi
Facebook: Oluwafemi Adebisi Daniel
Download/buy/Stream Heist and Mr Nobody HERE
The post Femi – "Heist" + "Mr Nobody" appeared first on tooXclusive.