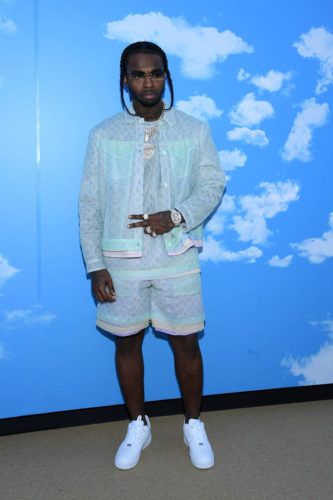 Migos rapper, Quavo recounts convincing the late rapper, Pop Smoke to wear a suit to the Paris Fashion Week.
Everyone knows that Popsmoke was one of the foremost artists in the music industry before his tragic death. This death was shortly after the release of Meet The Woo Vol. 2 which was star-studded, including Quavo.
It appears that their relationship was deeper than just music and they have
During a recent interview with Angie Martinez, Quavo shared details on his relationship with Pop Smoke. The Migos rapper first explained how he and Bobby Shmurda locked in, opening the doors for the anticipation of a Shmigo project.
Quavo explained that Pop Smoke was ever ready to pay attention to whatever knowledge he dropped, even when it comes to fashion.
I actually made him put on a suit to go to Diddy's party, too. He was just, 'I don't wear no suits.' I was like, 'Man get a suit, man. Meet me right here tonight. We gon' gotdamn link.
It's your first fashion week, you know. They'll put anything on us. So he text my phone like, 'Yo, I'm supposed to wear this shit like this? I woulda told him if he was f**ked up, but he was fresh, Quavo said.
The post Quavo Recalls Convincing The Late Pop Smoke To Wear A Suit appeared first on tooXclusive.