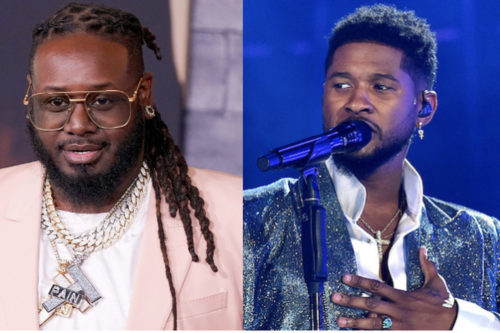 T-pain has been opening up about his past, especially as regards his career and recently, he spoke about a conversation Usher had with him.
In a newly released clip from Netflix's This Is Pop, T-Pain recalled a conversation with Usher who confronted him on an airplane in 2013 with claims that he "fucked up music." The singer and rapper reveal that he fell into a depression after fellow musician Usher told him.
He explained that he was asleep on the flight to the BET Awards and was woken up by a flight attendant who told T-Pain that Usher wanted to speak with him.
In the video above, he recalls: Usher was my friend. I really respect Usher. And he said, 'I'm gonna tell you something, man. You kinda fucked up music
T-Pain, whose real name is Faheem Rasheed Najm disclosed that what started as small talk eventually grew into Usher blaming him for the state of music. I didn't understand. Usher was my friend. He was like, 'You really, like, fucked up music for real singers.
Literally, at that point, I couldn't listen. Is he right? Did I fuck up music? And that is the very moment — and I don't think I realized this for a long time. That's the very moment that started a four-year depression for me.