Following the reported death of Lil Durk's brother, Dontay "DThang" Banks Jr., rapper, 69 decided to not pay his respects or keep silent on the matter, instead of taunting the rapper during this hard time.
On Sunday, the Rainbow-haired, dropped some comments on Akademiks' Instagram page, making jest of Lil Durk about murdering his own brother.
"[Lil Durk] tell the truth about yo Gang man they really dyin", 6ix9ine wrote alongside several laughing emojis for one of his comments.
See below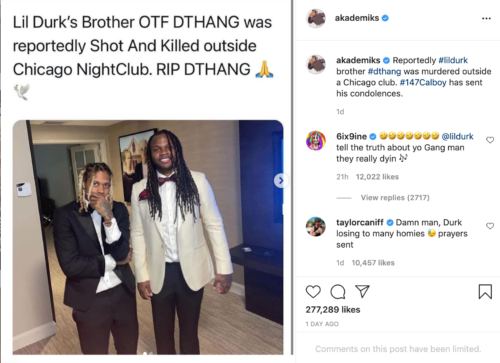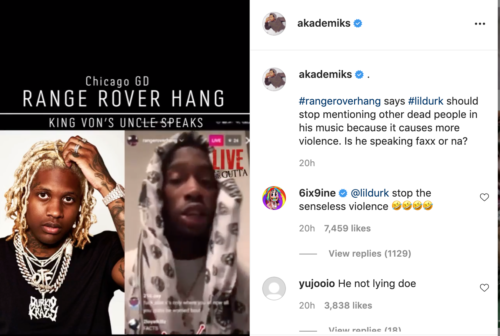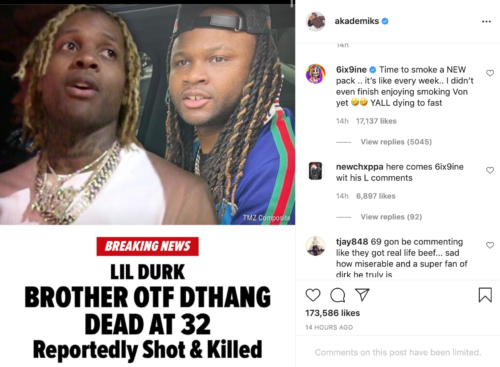 Not only did 69 do that, but he also shared a sarcastic RIP" on a Shade Room post about the reported death of Durk's brother.
You would recall that according to ChicagoMediaTakeOut, someone was shot at Club O before identifying DThang as the victim. The platform, known as the urban news for Chicago also shared a post that reads; Prayers to the person who got shot outside Club O. We have to start partying in peace.
People affiliated with the rapper and his late brother, OTF offered their condolences. Calboy was among the first to publicly offer his condolences via his Twitter account. He wrote, R.I.P. Dthang it was always loved when ya saw me. Murda Beatz also wrote, R.I.P. DThang.
The post Tekashi 6ix9ine Taunts Rapper, Lil Durk Over Death Of His Brother, OTF DThang appeared first on tooXclusive.