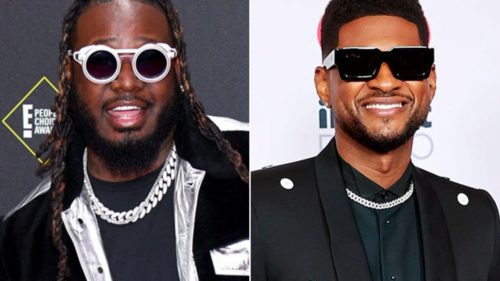 T-pain's fans are not having it after he disclosed that he fell into depression when Usher told him he fucked up music.
T-pain has always portrayed the artist who just generally wants to make people happy through his feel-good music. However, it has come as an utter shock to his fans, after they learned that he fell into depression because of something Usherm who he considered a friend at the time said to him.
Before now, we reported on a clip of Netflix's This is Pop where T-Pain detailed a story that allegedly occurred back in 2013 as he was on a flight to the BET Awards.
T-Pain, whose real name is Faheem Rasheed Najm disclosed that what started as small talk eventually grew into Usher blaming him for the state of music. I didn't understand. Usher was my friend. He was like, 'You really, like, fucked up music for real singers.
Literally, at that point, I couldn't listen. Is he right? Did I fuck up music? And that is the very moment — and I don't think I realized this for a long time. That's the very moment that started a four-year depression for me.
The response to this by Pain's fans was quick. Some of them remarked that it seemed odd that Usher would make such a comment to T-Pain only to return with his auto-tune-heavy hit single, "OMG."
Meanwhile, the public is demanding that Usher issues an apology to T-Pain and he's being dragged until it happens