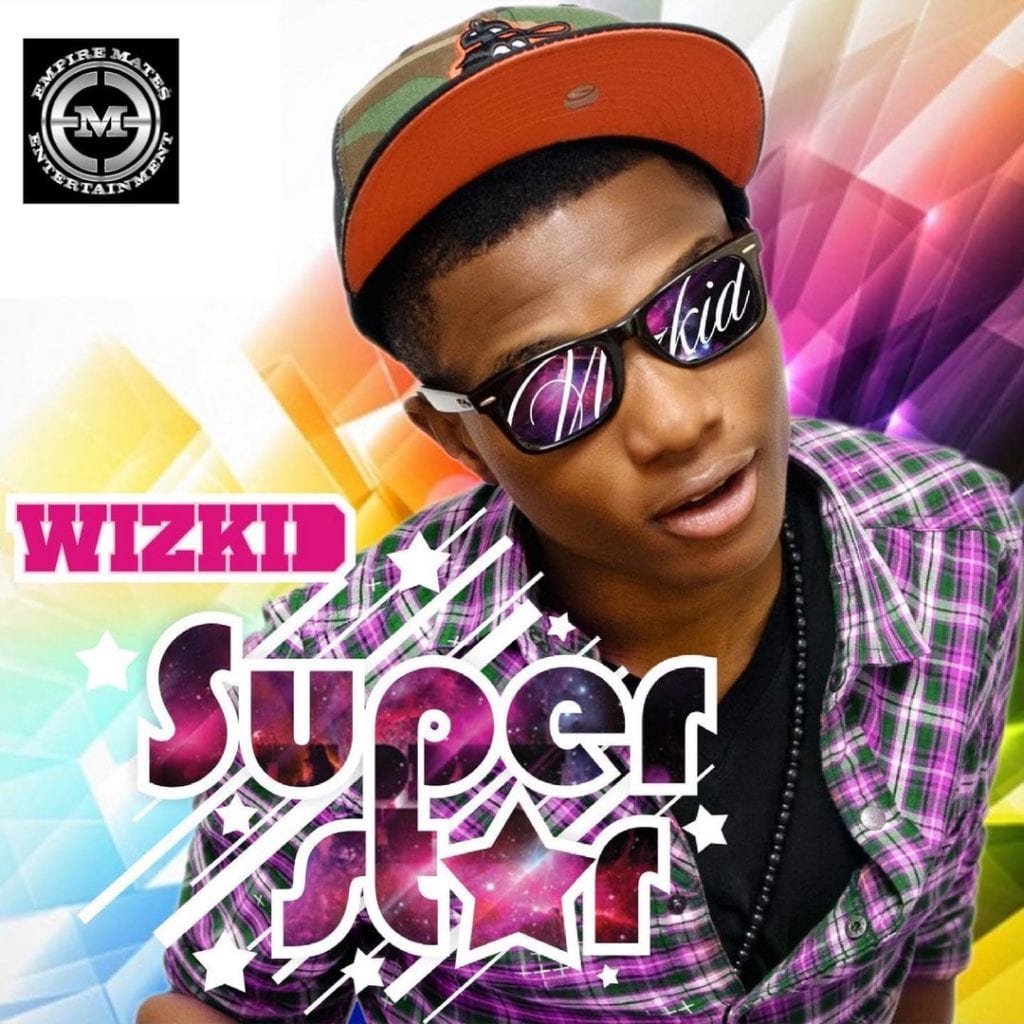 In mood of the 10 Years (A Decade) Celebration of BIG WIZ's debut music project, We Present "Superstar" Album by Wizkid.
Wizkid – 'Superstar' Album…. At 12, Wizkid (born Ayodeji Balogun) was already primed for stardom. He began his career under the moniker Lil Prinz, trying to make it as a rapper in his hometown, Surulere. Nearly a decade later, when his talent caught the attention of top Nigerian label Empire Mates Entertainment (E.M.E), the singer was already ready to step into the limelight. His simple yet effective melodies helped him cruise to victory, a style evidenced through a feature on M.I's "Fast Money, Fast Cars."
In 2011, the singer released his debut album Superstar, an ambitious 17-track cut of party bangers and romantic numbers that made him one to watch in the burgeoning Afrobeats scene. Songs such as "Don't Dull" and "Pakuromo" became the soundtrack for an entire generation of listeners who connected to the singer's message of rising from grass to grace. Wizkid describes many of the songs on Superstar as being from "a very raw place," admitting that he was just a young man with a dream of making good music. Back then, he barely had the pockets to get by, but with close friend and mentor Banky W. by his side, he fashioned a way. "Banky W. actually named that album," he tells Apple Music. "He used to call me Superstar and he just named it that. We didn't really know what we were doing, we were just making [songs] together and hoping that people would love them."
See Superstar Album Tracklist below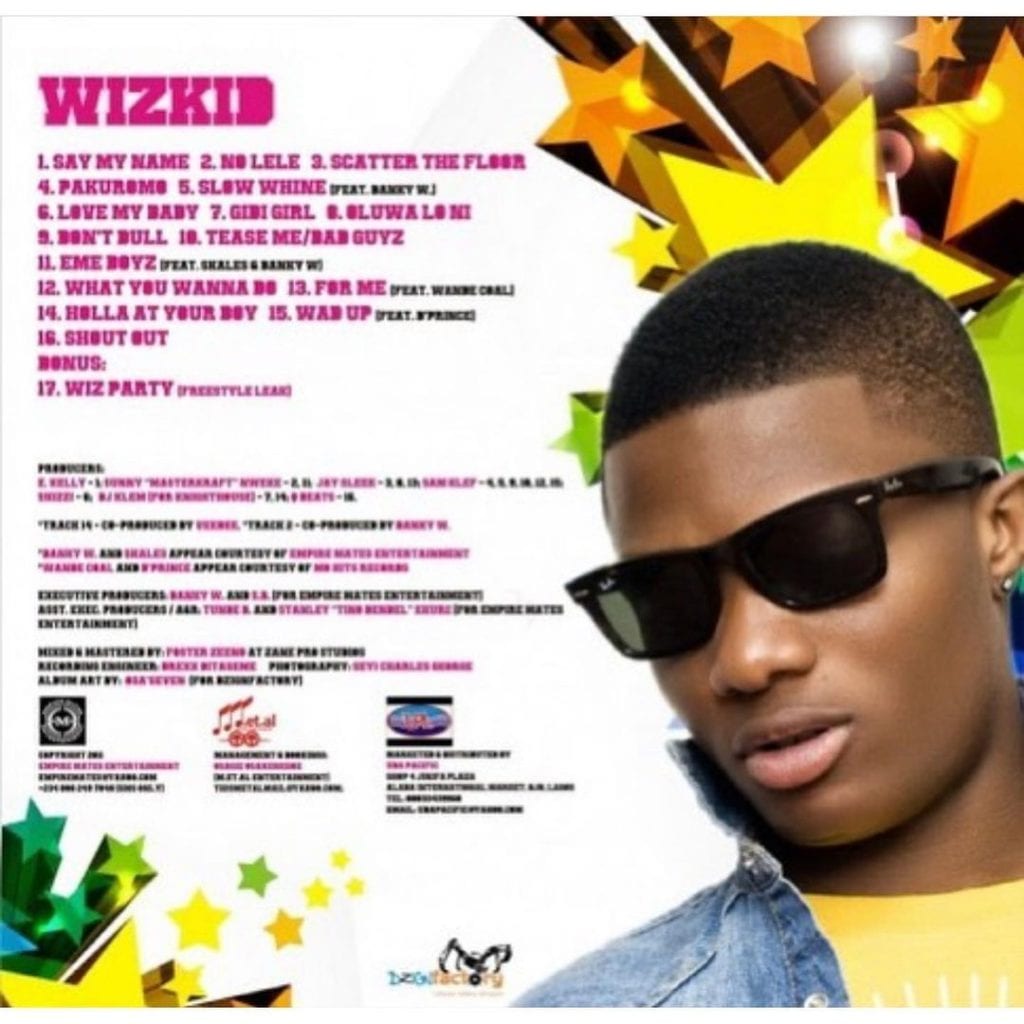 "Superstar was my first introduction to the world," he continues, "and people accepted me and my music with open arms. I think I've grown since then, both as a person and musically, and it's beautiful that people are still riding with me simply off the strength and feeling of the music. I think it's a testament to the shared love for music between me and my fans." As his debut album celebrates its 10-year anniversary in 2021, Wizkid takes a look back at where it all began, tracing the story of Superstar through its essential tracks.
"Say My Name"
"I was hoping to make it when I wrote this. I had recorded this song before I had even started making the album. I remember where I made this. I think it was with E Kelly in his room. I don't know what exactly we were trying to make when we started this record, but yeah, it's a song I had laying around."
"No Lele"
"'No Lele' means 'No Wahala' or 'No Problem.' This song is like a prayer to me. I need to give a big shout out to Banky W. on this song too with the live band element. I remember both he and Masterkraft made sure that it sounded live. Big shout out to Banky W. for that. I've been working with Masterkraft for years and still continue to work with him."
"Scatter The Floor"
"I actually remember most of the sessions for this record. It was in a hotel room across from a club called Rehab. We would go to the club, come back at crazy hours, make music, and play the music. I don't go to the studio looking to create dance music or a particular sound. I just make music and I really don't think too much; I just let it come naturally."
"Pakurumo"
"I think we were trying to make a Fuji-inspired song; that is how we came up with this record here and I ended up performing it at every single wedding. Like I said, we weren't overthinking too much when we were making the album, we were just hoping. Samklef produced this song and many of the other songs on the album. At the time, we had a close relationship and it was amazing working with him. I would pull up to his studio at odd hours. The studio was actually in an uncompleted building, and we would go to the roof, take a joint, have a drink, then come back down and record. Then we would end up at Fela's Shrine."
WATCH VIDEO (Starring Funke Akindele; Jennifer)
"Love My Baby"
"This was just a classic love song. I think I was dating someone at the time. It wasn't even about one particular person; knowing me, I was probably in love with three people at the time. Every week, my love interest would change. It's very easy expressing my feelings about love, because I love love, and I love to be in love. We made this song in Don Jazzy and D'Banj's studio. It was during one of the times I used to go to their house and Shizzi was there working with them. I think he was working with Wande Coal at the time, but when they would go off to do shows, that was the only time we could get to work."
"Gidi Girl"
"You can call the entire album a love album. I made this particular song in KnightHouse studio, big shout out to them. They used to give me free sessions. They actually gave me the free sessions while I was recording my album, so I made 'Gidi Girl' and 'Holla at Your Boy' on the same day."
"Oluwa Lo Ni"
"It might sound weird when I say this, but I am a very spiritual human being and I am very in tune with myself. I have always been in tune with just the presence of God and life and the essence of giving thanks. This song was just one of the ones where I was giving thanks. Jay Sleek produced this song as well."
"Tease Me / Bad Guys"
"This was a freestyle. We dropped it the next day after we recorded it. This was something I did a lot back then, record songs and then drop them the very next day. This was another one of the songs produced in Samklef's studio."
"Eme Boyz" (feat. Skales & Banky W)
"We were just trying to make the song for the label, to show solidarity as brothers. We spent a lot of time together. There was a time we actually lived together, and we all were living in the same house. It was me, Banky, Skales. It was the E.M.E house, and so many things happened during that time."
"Holla at Your Boy"
"This was actually a remake of another song, and at first, we were not trying to put it out. When I first started making music, I would take beats from the internet and I would make covers over them. This was one of the songs that was a remake and after we made it, it ended up coming out nicely, so we decided that we were going to put it out. I think this was produced by DJ Klem, a cool, calm guy who also produced 'Gidi Girl.'"
"Shout Out"
"This is another freestyle created when me and my boys were just vibing. I think I performed it for the first time at my album launch. Those were exciting times. Back then, it was not like a big promotion, PR, or budget. There was no PR or all of that stuff, it was just through me and my organic fans, and we just dropped it. People wanted it, so… I didn't drop anything until people wanted it."
Listen and Enjoy 'Superstar Full Album'
STREAM Superstar Album by Wizkid On Apple Music