Big Sean isn't done making controversial moves.
This morning, the American rapper took to social media to share a photo from the shoot of his New video, WHAT A LIFE'. As seen in the photo, Big Sean was sitting on a King sized chair covered with live bees.
At first, Netizens thought it was photoshopped, but the Big Sean hopped on Ig to clear their doubts. According to him, it is not 'prop' or photoshopped, but 65,000 bees on him.
He revealed that in his song he said 100 bees, but it was really 65,000 bees he was referring to. Big Sean noted that he doesn't want social media users to think it is fake or some 'damn effects'
See the photos below;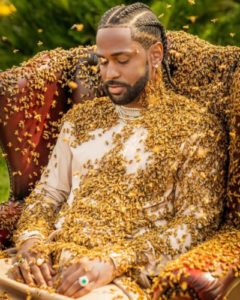 View this post on Instagram